17 Jun 2013, 6:33pm
curriculum
expectations
extensive reading
language courses
Language learning
school management
self-study
TED
by
sendaiben
2 comments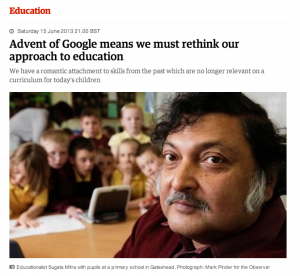 Sugata Mitra's article in the Guardian on Saturday was very interesting. If you have seen his TED talks (and they are well worth watching), you will know the kind of educational changes he is looking to make.
What struck me is how similar it is to what my collaborator Daniel E. and I are trying to do at Tohoku University. There is a common thread running through our reading, discussion, presentation, and computer classes. We call it 'practical', 'industrial', or 'student-focused' English. To be honest, we haven't found the perfect descriptor yet 😉
All of the classes are built on the following principles:
1. content and participation are student-generated
2. the bulk of the teacher's work happens outside the classroom in planning and preparation
3. teachers have a coaching rather than instructional role
4. students are active and spend most of their time using English in pairs or small groups
5. teachers have high expectations regarding student achievement
We've mainly been talking about extensive reading so far, but there are plans afoot for a guide to leading discussion classes, with online study and presentation to follow after that. For now, you can catch us at the Extensive Reading World Congress in Seoul in September, or at JALT National in Kobe in October.
Or, you know, leave a comment here if you like!