21 Feb 2019, 3:44pm
Academy
business
curriculum
eikaiwa
extensive listening
extensive reading
goals
high school
JHS
junior high school
language courses
materials
school management
textbooks
by
sendaiben
1 comment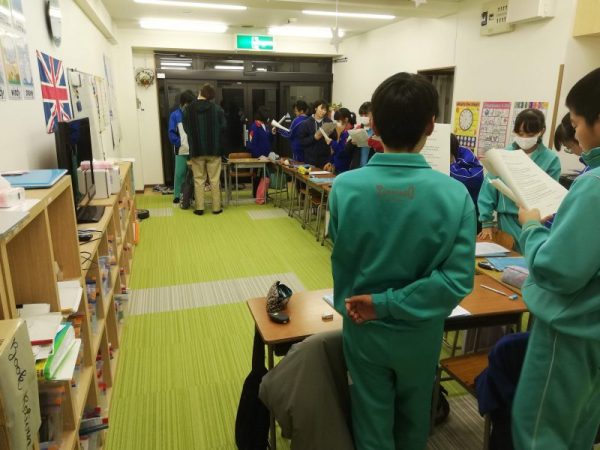 It's all coming together. Or is it?
You can read previous Academy posts here:
This year was a solid one for the Academy but we definitely had some ups and downs.
Mistakes were made (by me)
Let's start with the downs: we screwed up badly not just once but twice. The first mistake was getting a bit cocky about the Academy and changing the way we explained it to existing students.
In the past we'd gone into each class with 6th graders in, introduced the Academy and encouraged them to join. Almost everyone did.
Last year, we asked everyone to come to a special explanation session on a Sunday, then asked them to come in again in January and line up to sign up for the days they wanted. Only about half the students joined.
This is a mistake we'll be paying for for the next five years, as we have a year that is quite a bit smaller than it should be. Looks like we'll have 22 second-year students next year, spread over three classes of 4, 6, and 12 students. Doubly regrettable because the Academy classes work much better with at least ten students in.
This year we went back to the original, more humble model and right now halfway through the explanations pretty much all our 6th graders have signed up. If all goes well we should end up with 28 first-graders in three classes.
The second mistake was delegating too much. As planned I assigned a teacher to each class, but then failed to monitor them as closely as I should have (in my defence we had some pretty serious issues crop up this year that took a lot of time at first and then burned me out later).
As a direct consequence of me not paying enough attention to how the classes were going, the current first-year classes in particular are not where I want them to be, and all the reading classes have gone slightly off course.
Nothing too serious, but changes will be needed next year.
But lots of good things happened too
Despite the lack of attention from me, the classes mostly went well and students learned a lot. We did Eiken last month at the school, and 78 out of 82 students passed the paper test. Last weekend we did interview practice, and everyone was basically okay to pass. This is very encouraging, as our student body is very mixed and doesn't just consist of elite students.
We wrote 2/3 of the A3 output course, and it turned out really well. I'm proud of all our materials, but this might be the best one yet. We also finished one year of the A5 advanced course.
Very few of our students quit. We lost a handful to graduation and three quit, but we're hoping to have a healthy intake and we also had four students join from outside. Hopefully that is the start of a trend 🙂
Student numbers
Junior high school 1: 28? (still in the process of pitching to parents)
Junior high school 2: 22
Junior high school 3: 30
Senior high school entry class (1-2 year students): 10
Senior high school advanced class (2-3 year students): 11
Pretty encouraging. It will be interesting to see how many of the new JHS 3rd years stay on into high school, as they were our first big year.
Also, the mathematically gifted among you will notice that this would give us 101 students, finally reaching our longstanding goal of 100 students in the Academy. Eventually I am hoping we'll have something like 200 in the program (see below for how this may be possible).
Future plans
We're going to rent the third unit on the ground floor of our building. This will give us all the car parking spaces (an additional four) plus get rid of the grumpy guy that used to rent it so no one will be complaining about our students going forwards. This extra unit will give us about 280 new class places and allow us to have all junior high school levels of the Academy, plus one high school level, every weekday.
I'm going to be much more hands on with the reading classes next year, and with the junior high school first year output classes. This will allow me to develop them a bit more and address structural problems (as well as train our teachers).
I'm going to take another leaf out of SEG's book and try to find supplementary reading material for our beginner levels. At the moment the students read sets of readers with CDs, but I would also like to mix in picture books and other reading material that they might find interesting. A big work in progress.
We'll finish the A3 course and start working on our final level, A4. We'll also write a second year of the A5 course. This will complete the Academy materials, at which point we might start working on a course for elementary school students.
Outlook
The outlook is good. I am not going to be able to be as hands-off next year as I was this year, but I think the program will get a lot stronger because of that.
We will be in a position to recruit hundreds of new students next year, including almost 100 new Academy students, so we will need to start working on advertising for April 2020 from now. It's going to be intense but also kind of fun 🙂
8 Dec 2018, 2:05pm
conference
curriculum
extensive reading
language courses
university
by
sendaiben
leave a comment
I enjoyed attending and presenting at the Eighth CLS International Conference in Singapore this week.
Thank you to everyone that attended my presentation and especially to those that asked questions or talked to me afterwards.
Here are my slides in PDF format:
Please feel free to leave a comment or contact me by email if you have any questions.
6 Jul 2018, 3:32pm
classroom management
extensive reading
university
by
sendaiben
1 comment

Making Pairs with an Odd Number of Students
This year I started teaching a new version of a course: a second-year extensive reading-based class. The class is an elective compulsory class (so the students have to take it, but they can choose which teacher to take it with, and the teachers have free rein to determine the content of the class).
The new version consists of 35 minutes of silent reading (students can also work on their preparation sheet for speaking during this time) followed by about 35 minutes of speaking and ten minutes of writing.
During the speaking part students talk to each other about a book they read this week. They have a preparation sheet where they have already written about their book which they can use to help them.
My colleague Dan E. suggested I try the 'speed dating' format for this, and we ended up with students working in pairs for five minutes, then changing partner and repeating. We usually manage about five iterations. Students can use their preparation sheets the first couple of times, but should try not to after that.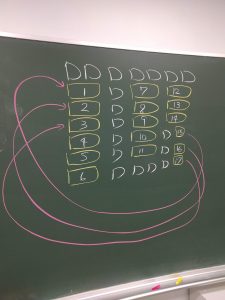 The key to this is to spend as little time as possible making pairs and moving, in order to maximise student talking time. The easiest way I know to do this is to create a map of the classroom on the board (see picture above). The white squares are desks. The yellow rectangles are two desks pushed together.
I number the students, then they move to their initial pair and do the first iteration of speaking. Then I ask the students facing the window to stand up and move 2-3 spaces up to a new partner. Repeat as many times as you want to (although be aware of when students are going to cycle back to the initial point).
This works very well for pairs, but I had 31 students today. Thankfully I found an easy solution. I made a group of three with the extra person, but (this is the key) all three of them were 'facing the window'. This, combined with having students move up three spaces each time they changed, meant that no one student was stuck in the 3-group more than once.
In fact, the students seemed to enjoy the 3-group for the novelty, so it worked out really well.
This seems like a small, unimportant tweak, but it solved a problem that had been bothering me for a while 🙂
25 Feb 2018, 11:01am
extensive reading
by
sendaiben
leave a comment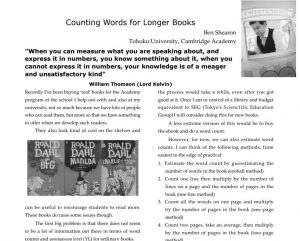 I just realised my article on estimating word counts for longer books is online here in the Extensive Reading Journal.
It compares various methods for estimating word counts of longer books. See what you think!
15 Oct 2017, 11:19am
Academy
curriculum
extensive reading
goals
high school
junior high school
language courses
school management
by
sendaiben
4 comments
Encouraging developments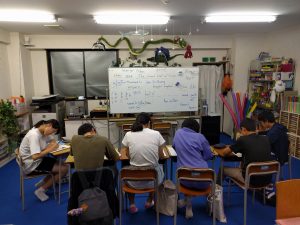 Second-year junior high school students in the output class
You can read previous Academy posts here:
The Academy is still going well. I'm having a lot of fun and I think at least some of the students are enjoying it too 😉
We lost one more student on average (lost three, gained two), but I think this is normal and it isn't something that worries me. The students who are leaving tend to be our older students who started before the Academy existed and haven't benefited as much as our newer students will from improved lessons and system. Here are our latest numbers:
Right now we have 78 students:
32 junior high school first years (29 regular, 2 reading only, 1 advanced)
21 junior high school second years (15 regular, 4 reading only, 2 advanced)
8 junior high school third years (5 regular, 3 reading only)
7 senior high school first years (4 regular, 3 reading only)
6 senior high school second years (5 regular, 1 reading only)
2 senior high school third years (2 regular)
2 ronin students (1 regular, 1 reading only)
It looks like we're going to fill our first year output classes, as one student has changed to output after a few months of tutoring, and a trial student last week is going to try to do the same.
Today I'm going to share the students' reading numbers. This gives some idea of how much our students are reading given an hour in class (probably more like 50-55 minutes) and for a few of them also reading at home. All numbers are up to date as of today.
First year (six months or so): 16,885-111,509 (most students are in the 30,000-50,000 range), YL0.2-0.4
Second year (eighteen months or so): 75,850-354,976 (most students are in the 120,000-160,000 range), YL0.3-0.6
Third year (thirty months or so): 197,892-748,564 (most students are around 300,000), YL0.6-4.0
You can't really tell from the numbers above, but each year is reading more/better/faster than the years above them. Our current first years seem to be doing much better than our current second years did in their first year, who did better than our current third years did in their first year. I predict our current first years will be hitting 500,000 words by the end of junior high school, which should set them up to read a couple of million by the time they finish high school.
We need to continue buying intermediate books, and I am working on that. I am trying to find more leveled readers and books aimed at native speakers rather than graded readers (which tend to be a bit more dry). We already have mostly graded readers anyway. Students who find a series they like (Magic Tree House is very popular) and then read all the books in the series tend to do very well in terms of motivation and reading progress.
I have pretty much decided not to increase class sizes above ten, mostly due to the physical constraints of our current classrooms. I think we could do twelve easily, and probably up to twenty, but we just don't have the room.
In terms of who will teach the classes, I am hoping to assign a teacher to each class next year. I will then join certain classes to model, observe, give feedback, etc. This should allow me to develop the system and get more of a birds' eye view. Eventually it should allow me to take a step back with regards to the actual teaching too (and maybe open another school, but that's a different blog post).
What do you think? What are your students' numbers like? Any good intermediate books/series I could get?