22 Oct 2010, 12:45am
by
sendaiben
4 comments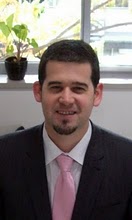 My name is Ben Shearon. I'm originally from Europe (British passport, born in Germany and grew up in Spain). I came to Sendai in July 2000 and have been here ever since, working in a variety of educational contexts.
After almost four years as an ALT working for the Sendai Board of Education (two in JHS, one in ES, and nine months in SHS), I was employed by the Miyagi Board of Education as Chief ALT Advisor for Miyagi, a position I held for four years. It was an incredible learning experience, but in March 2008 I left to work part-time at several universities in Sendai.
From April 2009 to March 2022 I worked at Tohoku University (in the Institute for Excellence in Higher Education,  previously the Centre for the Advancement of Higher Education), as well as serving on the boards of Nika Junior and Senior High School and Cambridge English. I am an active presenter at various conferences and events, and have presented on behalf of Oxford University Press; Sendai, Miyagi, and Niigata Boards of Education; and Tohoku University.
I am particularly interested in teaching English to children, especially through phonics and reading instruction; extensive reading; effectiveness in teaching; curriculum change; and the English education system in Japan.
From 2003 I have been helping my wife run her English school Cambridge English in Sendai.
I wrote a three-year, four-skills supplementary course for junior high school students with my colleague Daniel Eichhorst (The Fluency Course) for use in junior high schools, private English schools, and jukus.
In my spare time I run RetireJapan, a website/blog/forum/YouTube channel to provide impartial financial advice to English-speaking residents of Japan.