15 Oct 2017, 11:19am
Academy
curriculum
extensive reading
goals
high school
junior high school
language courses
school management
by
sendaiben
4 comments
Encouraging developments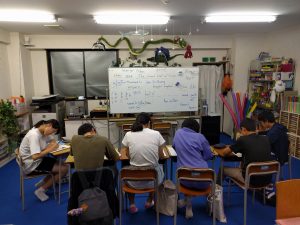 Second-year junior high school students in the output class
You can read previous Academy posts here:
The Academy is still going well. I'm having a lot of fun and I think at least some of the students are enjoying it too 😉
We lost one more student on average (lost three, gained two), but I think this is normal and it isn't something that worries me. The students who are leaving tend to be our older students who started before the Academy existed and haven't benefited as much as our newer students will from improved lessons and system. Here are our latest numbers:
Right now we have 78 students:
32 junior high school first years (29 regular, 2 reading only, 1 advanced)
21 junior high school second years (15 regular, 4 reading only, 2 advanced)
8 junior high school third years (5 regular, 3 reading only)
7 senior high school first years (4 regular, 3 reading only)
6 senior high school second years (5 regular, 1 reading only)
2 senior high school third years (2 regular)
2 ronin students (1 regular, 1 reading only)
It looks like we're going to fill our first year output classes, as one student has changed to output after a few months of tutoring, and a trial student last week is going to try to do the same.
Today I'm going to share the students' reading numbers. This gives some idea of how much our students are reading given an hour in class (probably more like 50-55 minutes) and for a few of them also reading at home. All numbers are up to date as of today.
First year (six months or so): 16,885-111,509 (most students are in the 30,000-50,000 range), YL0.2-0.4
Second year (eighteen months or so): 75,850-354,976 (most students are in the 120,000-160,000 range), YL0.3-0.6
Third year (thirty months or so): 197,892-748,564 (most students are around 300,000), YL0.6-4.0
You can't really tell from the numbers above, but each year is reading more/better/faster than the years above them. Our current first years seem to be doing much better than our current second years did in their first year, who did better than our current third years did in their first year. I predict our current first years will be hitting 500,000 words by the end of junior high school, which should set them up to read a couple of million by the time they finish high school.
We need to continue buying intermediate books, and I am working on that. I am trying to find more leveled readers and books aimed at native speakers rather than graded readers (which tend to be a bit more dry). We already have mostly graded readers anyway. Students who find a series they like (Magic Tree House is very popular) and then read all the books in the series tend to do very well in terms of motivation and reading progress.
I have pretty much decided not to increase class sizes above ten, mostly due to the physical constraints of our current classrooms. I think we could do twelve easily, and probably up to twenty, but we just don't have the room.
In terms of who will teach the classes, I am hoping to assign a teacher to each class next year. I will then join certain classes to model, observe, give feedback, etc. This should allow me to develop the system and get more of a birds' eye view. Eventually it should allow me to take a step back with regards to the actual teaching too (and maybe open another school, but that's a different blog post).
What do you think? What are your students' numbers like? Any good intermediate books/series I could get?