9 Jul 2013, 10:57am
curriculum
extensive reading
materials
school management
teaching
theory
university
by
sendaiben
2 comments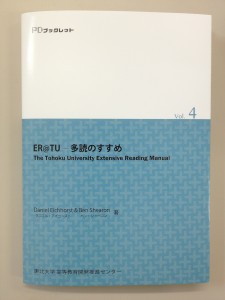 I am very pleased to announce that it is now possible to get more copies of the  Tohoku University Extensive Reading Manual.
Just send an email to the Center for Professional Development and they should be able to send you a copy.
5 Jul 2013, 10:50am
business
expectations
online resources
personal
technology
websites
by
sendaiben
3 comments

Recently I have been playing with a great free online resource called Trello that is designed to help teams work together on projects.
There are two main things I do on the site: manage my to do list and coordinate tasks within teams (one of colleagues at university and one at Cambridge English).
To Do List
In Trello I have a personal to-do list board. I have divided the board into four: today, this week, future, and waiting (I got this idea from Leo Babauta, who got it from Ryan Carson). I populate the future and this week lists as things come in, then move them to today every morning. So far it's really helping me keep track of various things.
Coordinating Teams
You can also add other people to groups, and assign them to tasks. They can write notes on things, archive completed tasks, etc. It's incredibly useful to delegating and sharing tasks.
Right now Trello consists of a website and apps for iOS and Android. The basic version is free, and there is a paid enterprise version as well (I don't know what it does). I've used other productivity apps before, like Wunderlist, the iOS Reminders app, and Google Docs, but this has been the best one so far.
Please leave any software tips in the comments!
4 Jul 2013, 10:54am
curriculum
EFL
extensive reading
graded readers
language courses
Language learning
materials
readers
Reading
teaching
university
by
sendaiben
6 comments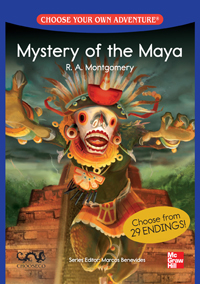 Today I am going to introduce a new activity I have been doing with extensive reading classes here at Tohoku University this semester. Our ER classes consist of approximately 45 minutes of silent reading and 45 minutes of supplementary activities including speaking, listening, and writing.
One activity that students enjoyed was reading some of the Choose Your Own Adventure readers in groups (I got the idea from Marcos Benevides).
Background Info
The Choose Your Own Adventure books (CYOA from now on) were popular when I was in school. They consist of books where the reader is given choices and the story develops differently based on those choices, up until an ending is reached. Some endings are good and some are bad. It's kind of like a computer or role-playing game.
The CYOA readers are published by McGraw-Hill Education, and consist of 30 titles over three levels (500, 700, and 900 headwords). I used this in-class reading activity twice, once with Mystery of the Maya, and once with Cup of Death. Both are at the 500 headword level.
Procedure
The activity takes 30-35 minutes. First, introduce the concept of gamebooks to the students and walk them through the 'read a page, decide on a course of action, go to the next page' dynamic.
Assign the students to random groups (we found pairs and groups of three work best, as larger groups mean each student has too little to do). Explain that each group member will in turn read a page, the group will make the decision, and the book will be passed to the next member. This will continue until an ending is reached. If groups finish early they should go back and try to get another ending.
The teacher then reads the first page to the class before distributing one book to each group. Once a group has their book, they can start.
Results
We did this activity twice with about a dozen classes. Students actively read, listened, and discussed options for the whole time the activity went on. Many students enjoyed the activity and were clearly happy when teachers introduced the second book (three weeks after the first one). The highly structured nature of the activity makes it easy for students to participate.
Evaluation
This is a great activity to do two or three times a semester. It would be possible to base an entire course around reading CYOA books, but I suspect the novelty might wear off. Of course, as with any activity, not all students enjoyed it to the same extent. In terms of materials, one class set can be shared among several teachers.
The best thing about this activity is that it really brings out the meaning in the books: students have to understand the text in order to choose their next action.
Improvements
1. The content of each book in the CYOA series varies considerably. Our students had some trouble with the Mayan setting, so it might have been useful to pre-teach some of the background, the geography, and the history. This could be done in a few minutes. Going through the proper nouns in the book would also help students read more smoothly.
2. Doing the exercise in pairs gives more reading/speaking time to each student.
3. It is not necessary to have class sets of each book: the same activity could be done with each group/pair reading a different book (of course, pre-teaching and having the teacher read the first page would not be possible in this case). This would allow students to choose which book they wanted to read, possibly making it more interesting for them.
Conclusion
This was a very positive experience for my colleague and I, and for the students. It is likely to become a regular activity in our ER classes.
1 Jul 2013, 11:54am
conference
Language learning
teaching
vocabulary
by
sendaiben
leave a comment

I was lucky enough to be able to attend this year's JALT Vocabulary SIG Symposium on Saturday in Fukuoka. It was the first time for me to attend the event, and I found it useful enough to put it on my list to attend next year.
The format for the symposium was to have two sessions, one in the morning and one in the afternoon, with a poster session/lunch in between. Each session consisted of four twenty-minute presentations of research followed by comments from a discussant (this year Paul Nation and Yo In'nami served in this role).
Apart from the fact that it was held in Fukoka, which has the most convenient airport (5 minutes by subway from the central train station) and possibly the best ramen in Japan, the symposium had several other things going for it:
the quality of presentations was high

having a discussant comment on the research papers gave powerful insight into how to approach research
having the entire symposium in one room allowed all the participants to have the same experience
the venue was conveniently located ten minutes by subway from the city centre
the organization was very smooth, with signs and volunteer guides, coffee sessions, and a well-organized poster session
Basically I was very impressed and recommend future Vocabulary SIG events -hope to see you at one in the future!