18 Feb 2018, 9:28am
Academy
junior high school
school management
by
sendaiben
3 comments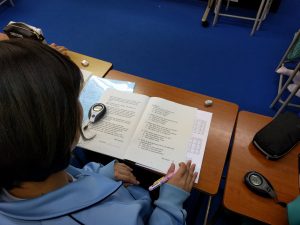 You can read previous Academy posts here:
The Academy is still going well, although we ran into an unexpected problem this year. I'm still having a lot of fun and the students are doing extremely well. I'm particularly encouraged by the fact that all our struggling learners have built a solid base and are no longer struggling!
Good news
There is quite a bit of this. We have finally taken the plunge and rented a new classroom next to our main classroom. This will give us a dedicated Academy classroom (that will be used by other classes in the daytime) and allow us to have all classes do reading first and fluency second. This matters because doing it the other way around results in students trying to read at the end of the day when they are tired from actively speaking and writing English. It also means that we will be able to increase fluency class sizes to twelve.
In the schedule for next year I am not in charge of any classes. I will definitely be there every day, at least to start with, and will work with all the teachers to set up routines and address problems. Once the classes are running smoothly though, I plan to cut down to 3/4, 1/2, or even 1/4 class time. I think at least for now I will want to go to each class at least once a month at a minimum.
We've started working with a marketing expert to redesign the school website, improve our online advertising, and write new copy for all our marketing/informational materials. So far it's been really helpful, and I'm excited to see if it makes any difference to our recruitment. Just having the website say what we mean more clearly has been completely worth the cost so far though.
We've been filling holes in classes by having the odd student join and also by persuading students to shift from input only (extensive reading) to input and output (fluency course). We currently have space for five more new second years and ten more new third years.
The fluency course materials are really coming along. We made some great little tweaks this year and the course is a lot more solid. We have pretty much finished the second year materials and are thinking about what the third year will look like. I'll write a post about the fluency course soon.
Bad news
There is one piece of bad news, but it's a doozy. Last year pretty much all our elementary school sixth grade students joined the Academy when they moved to junior high school. This year we had 31 sixth grade students and we assumed (hah!) that they would pretty much all join. At the same time we made some changes to how we handled the signup and explanation sessions.
Well, right now we only have 19 students signed up for the input+output course, and one for input only. We have a couple of trial students who are interested too, but as our capacity is 36 this is pretty bad.
I'm hoping a combination of some people changing their mind, some people introducing their friends, and some people seeing the new website will help, but otherwise instead of three classes of twelve we're looking at one class of six, one of four, and one of nine. One of the best things about the fluency classes is the atmosphere from larger groups, so I am a bit worried about the smaller classes.
We have two months to find another 16 junior high school first years to join the input+output course. Wish us luck!
Next steps
We need to buy a lot of new books and get ready for next year. We are hoping to hire one more intern to join our current three. I am planning to write a couple of blog posts (one about the fluency course and the regular stocktake post). We need to get the new classroom set up once we get the key on March 1st.
Any questions?