17 Apr 2017, 2:00am
Academy
curriculum
expectations
extensive reading
junior high school
by
sendaiben
12 comments
The Academy Fluency Course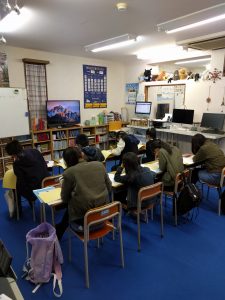 JHS 1st-year class doing verb exercises
We're into week three of the new academic year, and we're starting to see the results of the changes I wrote about in the previous update.
You can read previous Academy posts here: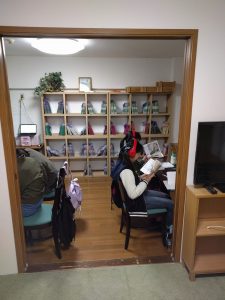 Our new reading classroom (the second)
I have to admit I was a bit jittery before classes started on April 1st. I was nervous about the new materials for the output classes, I was nervous about teaching six nights/twelve hours a week, and I was nervous about the larger class sizes.
It's looking like I needn't have been 🙂
New Materials
We've been working on the Fluency course for about a year now. We have year one in draft form, and will be using it with the three classes (28 students) of JHS 1st years we have this year as an alpha trial.
If anything, the materials work even better than I had hoped. Students have responded extremely well, they are visibly improving already, and the classes are just fun to teach.
The course is based on the New Horizon content, but vastly expanded and designed to get the students speaking, reading, and writing fluently. The first year of the course is 15,000 words long (three times the amount in all three years of New Horizon) and students explicitly study 720 words in the 48 lessons.
Students do speaking and writing practice, speed reading, verb/pronoun exercises, and memorize and write dialogues. They are constantly working for 60 minutes. It's a beautiful thing to see and teach.
We also use Quizlet (search for CA OUTPUT 1 to see our lessons) to preview and practice vocabulary and questions for the class, and students do Duolingo as optional language practice.
This year we will write the second year of the course, and next year we'll have a beta of the first-year course at Cambridge and at another partner school, while we do the alpha of the second-year course at Cambridge.
Teaching Six Nights/Twelve Hours a Week
This also went way better than I had expected. I didn't intend to teach six nights a week, but we had so many students wanting to join that we chose to add another day (Mondays), as well as increase class sizes (see below) to accommodate them.
The classes are fun, and even with the extra preparation needed for the first couple of classes, have so far not been too overwhelming. I have an assistant in each class but, to be honest, haven't really needed them so far.
Larger Class Sizes
This might be the best thing of all. Up until this year, all our classes had a maximum of six students in. This year due to unexpected demand (we were expecting up to twenty JHS1 students: we actually got twenty-eight) we increased the class size to ten.
I was expecting it to be more difficult to teach. I was also expecting the parents to be unhappy.
The thing is, with our new fluency course, it's easier to run the class as students need less individual attention. The atmosphere actually improved with more students in the room. In fact, I think this will work equally well (or better!) with twenty or thirty students.
Parents haven't complained. In fact, many of them have told us their children are really enjoying the classes.
So if we can secure a larger space I will try to increase class sizes to twenty next year 🙂