24 Apr 2017, 2:16am
junior high school
online resources
websites
by
sendaiben
leave a comment
Pretty good, as long as you can avoid the pitfalls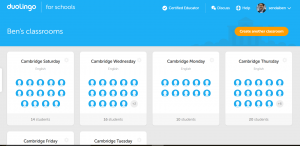 Duolingo classrooms
Last year I recommended Duolingo to one of my students: a junior high school boy who had been struggling with English.
He got really into it, doing a lesson a day or so for the last six months. His score on the last school test of the year? 96%.
I've played with Duolingo to review my French, German, and Spanish skills, and to have a go at Swedish, but they also have a teacher dashboard where you can track student progress.
You can set up classes (see the image at the top of the post) and see class and student progress: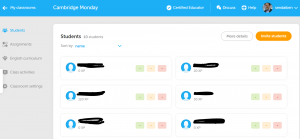 Class progress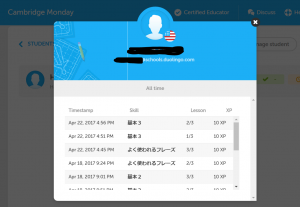 Student progress
Best of all, it's free and optimized for smarphones and tablets. You can also use it on a computer, but I think the mobile version is better (less typing).
Beginners and low-level students can start at the beginning, and more experienced students can take the level test and skip the easier lessons.
For students who don't have their own smartphones, I ask them to install it on their parent's and borrow it for English practice.
Not everyone is doing the optional homework, but the ones who are seem to be enjoying it.
I have run into two big problems so far:
1) some students click on 'let's get started' instead of 'log in' and end up making new accounts that I can't track. I haven't quite figured out how to fix that one yet.
2) some students have found that their account is set to Spanish. As they don't read Spanish they weren't able to fix the settings. Fortunately I do read Spanish, so was able to do it for them.
Other than those two problems, I really recommend Duolingo for junior high school and above. It's a fun and different way to get more English input and practice.
Anyone else using Duolingo? How are you finding it?