9 Aug 2013, 12:54pm
business
eikaiwa
expectations
high school
junior high school
school management
study trips
young learners
by
sendaiben
17 comments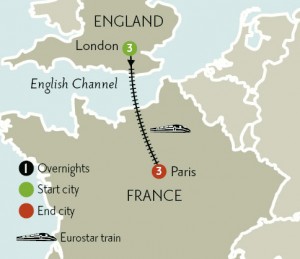 After the (semi-)successful study trip to Australia's Gold Coast in 2012, we decided we wanted to do something similar this year.
In Australia, the best things we did were as a group, and the worst part of the trip were the host families, so this time we tried to put together a kind of eye-opening cultural tour, with a week in London and three days in Paris.
The students were interested but their parents weren't. "Sounds like you're just going on a trip", they said, and weren't open to the argument that it was the kind of trip that most kids in Japan never have the chance to make.
We quickly rethought our plans and changed the trip to incorporate a week's homestay/English classes in London with three days in Paris. Seven students signed up, fewer than the ten we had set as a minimum. I wanted to cancel, but the school manager decided to press ahead as a learning experience.
We went with a company in the UK recommended by a friend of mine. Big mistake.
The problems
1. The school we partnered with for this trip was disorganized and unprofessional. The frequently forgot things, failed to deliver on previously agreed conditions, and three days before the trip emailed me saying "we couldn't find the last homestay family for you, so let's just refund your money and call it quits". Our office manager physically collapsed when I relayed that message. I was able to broker a solution eventually, but it was incredibly stressful. After we arrived, instead of providing staff to guide us on field trips as agreed, they dropped us off at various places leaving the teacher accompanying the students to try to salvage things and provide tours and activities on the spot. Classrooms were booked at the wrong time, activities were booked on the wrong day. Scheduled activities had to be changed because they were not available on Sundays, and so on. Instead of providing classes for each level of student (we had three different levels of ability) they just provided two. None of this was said in advance, it just happened and we decided to just get through the experience without upsetting the students rather than argue.
2. Organizing everything ourselves meant dealing with airlines, hotels, transport companies, schools, museums, restaurants, etc. Once we were in country, the sole teacher on the trip had an excessive amount of responsibilities and stress. For example, on the last day we had a guided tour of Versailles including pickup from the hotel and drop off at the airport, but until the minibus actually turned up we couldn't be sure it would happen so had to have a plan B in place. Everything turned out okay in the end (I don't think the students noticed the problems) but it was a bit too intense.
3. Due to a last-minute venue change (from London to Cornwall!) we ended up needing to take two long (6-hour) journeys by minibus. This was a bit of a waste of time. I found out later that we could have toured London first, then made our way to Cornwall, then flown from there to Paris, which would have been a lot better.
4. There were a large number of unanticipated supplementary expenses, from meals to transport to laundry, and as the organizers we felt responsible for these.
The benefits
1. We actually had nice homestay families this time (which is 90% of the battle). Also, Cornwall is a great place and the students enjoyed getting to know it.
2. Touring London for one day and Paris for three was fantastic. The students were blown away by the buildings, the museums, and the ice cream 🙂
3. Despite the unanticipated expenses above, and not having enough students, the trip was slightly profitable.
Things we learned
1. Partnering with good people/organizations is essential. Trying to pick up the pieces after someone else drops things is exhausting and stressful, as is making contingency plans on the fly. We will be much more careful in the future.
2. It's vital to balance activities and downtime for the students. Making sure they have some time to relax and time to themselves each day is really important. I feel we managed this well on this trip.
3. It's preferable to take two teachers. We were able to have a former teacher join the group in London and Paris, and it made a huge difference. Having two teachers spreads the worry, allows each teacher to have a little time off, and provides a backup in case of accidents. It's also great to have one teacher wait with the group while the other buys tickets, etc.
Overall
This was a good trip overall. Students that went on both (the former Australia trip and this one) said this time was more fun and interesting. We did a lot, and I have almost 1000 photos to prove it.
However, it was far too stressful and could have gone wrong. For future trips we will need to do more preparation and research.
We're thinking of going to Canada or Singapore next year. Anyone know any good schools? 😉