8 Jan 2013, 7:53pm
apple
google
iPhone
life in Japan
living in Japan
personal
technology
by
sendaiben
leave a comment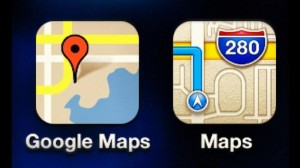 Another tangent, I'm afraid. If you don't have an iPhone you can probably stop reading now. If you have an iPhone that is running iOS 5 or less, this may be of interest. But if you have an iPhone running iOS 6 and you haven't downloaded the Google Maps App yet, keep reading.
I've been playing with the new Google Maps App on my iPhone 4S for a couple of weeks now. The short version is that it is amazing.
(it's not just me that thinks so, either: here's the Wall Street Journal version)
The long version:
all the accurate data from before
better interface
amazing driving instructions (it's better than any dedicated satnav I have used)
sharpened up graphics
I've used it a few times while driving, and the app is amazingly user-friendly. Clear voice directions, simple screen, very user-friendly (I particularly like the way you can scroll around the map then get back to your route with a simple 'resume' button).
The local transport functionality is there too: this is probably the thing I use my phone for the most. When in an unfamiliar city, the app gives accurate local train and bus times and connections -so much so that I use it instead of the official websites to find times.
No negatives I have found at this time. If you don't have it get it now -it's free.
*this review is only talking about the Google Maps App in Japan. I haven't had the chance to test it abroad yet 🙂