6 Oct 2012, 4:52pm
eikaiwa
iPhone
kids
Language learning
materials
online resources
personal
Review
school management
technology
by
sendaiben
2 comments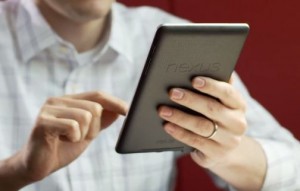 The Nexus 7 tablet by Google and Asus was finally released in Japan last month. I am a huge Google fan and am looking for alternatives to the iPad for the classroom. It was too good an excuse, so I went ahead and ordered one.
My wife has an iPad 2, and I will be comparing the Nexus 7 to that, as well as to my iPhone 4S. This is my first Android device.
In brief: it's great. I really like the 7″ form factor. It feels much lighter and easier to hold than the iPad, and at just under 20,000 yen, it is less than half the price of the new retina iPad.
The good:
size and weight are much more user-friendly than the iPad
screen is good with internet, ebooks, and movies
Android OS is fast and fairly intuitive
2000 yen credit for the Google Play Store
One movie and three books included
Lots of Japanese content on the Play store, including ebooks
E-reader includes an easy to use J-E/E-J dictionary
Skype is really easy to use
The bad:
Not as many apps as iOS
No Flash support! This is huge, as most of the websites I want students to use with this (WordEngine, Starfall) are flash-based
Not as intuitive as iOS in terms of navigation, etc.
Overall:
I love this tablet. For reading ebooks, watching movies, carrying around with me, reading PDFs, accessing the Google online world (gmail, reader, drive, etc.) it is wonderful. I'm really glad I got it, and it will supplement my iPhone 4S for most of these tasks.
However, unless I can get around the lack of Flash support (there seem to be workarounds for it, but they are not official and involve some risks) we won't be buying these for students to use in class. It's a shame, as the smaller and lighter form factor would make them easier to use for children than iPads.
Basically, if you use Google sites like gmail, drive, and reader, if you read ebooks and need a tablet to take movies and music on the road with you, this could be ideal. As a classroom tool it is crippled by the lack of Flash support.
Anyone else tried the Nexus 7?