8 Aug 2012, 6:42pm
e-future Graded Comic Readers
EFL
ES
extensive reading
high school
junior high school
kids
materials
readers
Reading
reviews
by
sendaiben
25 comments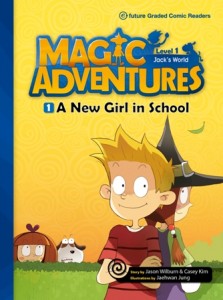 I just received my order of a full set of e-future Graded Comic Readers (Magic Adventures) and am, so far, extremely impressed.
The series consists of 18 comic books over three levels (200, 400, and 600 headwords). The story starts off in our world, then goes into Magic Land, then comes back to the real world. The characters are children and it has a real Harry Potter kind of vibe to it. The artwork is very nice, and the production values are high. They also have exercises and a glossary in the back.
Each book has a CD (not mp3 thankfully) with various tracks: theme song, the story, listen and read, listen and repeat, key words and expressions, then a great one: read the story using prompts, making them ideal for homework or self-study.
The books are comics, so feel very fresh. The students I tried them with today (elementary and junior high school) really liked them and so did I.
This is my find of the week: great, fresh, reading material at a reasonable price (set of 18 is just over 13,000 yen before discounts).