22 Oct 2011, 9:44am
curriculum
EFL
ES
extensive reading
kids
phonics
readers
Reading
reviews
school management
teaching
by
sendaiben
2 comments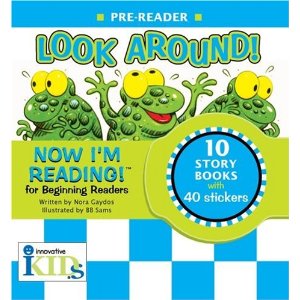 Now I'm Reading is a phonics program consisting of five levels of books, from pre-reading to independent. The books come in packs of 10 in a durable and attractive binder. Books can be read as a set or taken out to be read individually. The official website contains lots of information about the series, as well as downloadable activities.
Like Bob Books, this is also a great value option. One set is just over 1300 yen from Amazon.jp, making individual books cost about 130 yen. The production values are better than Bob Books: the binders are excellent and the books are printed in colour on thicker paper. The illustrations are also very attractive.
My take on the books:
1. the books are attractive and appealing to students (I like them too)
2. the pre-reader level (pictured above) makes great mini-story books to read aloud in class (it is not phonically graded)
3. the phonics levels are well-structured, but the stories suffer somewhat from phonics-itis (where the story comes second to the phonics target, resulting in awkward or boring stories)
4. great value
5. easy for students to read individually in class or take home for homework
On the whole, I am quite a fan. While they are not as good as Jelly and Bean (mainly because of how the phonics stories are constructed), they are much cheaper and clearly better than similar products in the same price range. If nothing else I really recommend the pre-reader level as really cheap story books.
Has anyone else used Now I'm Reading?