7 Aug 2012, 1:25pm
EFL
eikaiwa
high school
junior high school
Language learning
materials
reviews
speaking
teaching
textbooks
university
by
sendaiben
5 comments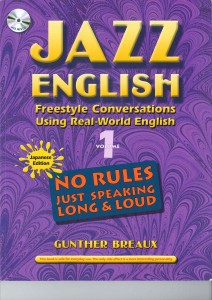 Published by Compass, Jazz English is a speaking textbook for lower-intermediate students. It works very well with junior high school students that have been studying for a while and are ready to take things to the next level in terms of speaking, as well as with high school and I imagine lower level university students. I have only used the first textbook, so this review does not address Jazz English 2, nor the companion workbook (which I am going to try soon).
The textbook consists of ten main units and three supplementary ones, with all units following the same pattern: new vocabulary, conversation prompt questions, a dialogue, a short reading section, a crossword to practice the vocabulary, a short reading task, exercises to support speaking, and a final speaking activity.
The focus of the book is for students to develop more autonomy while speaking, and to try to have longer and more complex conversations. It does this very well, at least in my experience, with students that have a solid base of vocabulary and English exposure, and who are motivated to improve their conversational skills. Our 'advanced' classes, consisting of junior high and high school students that have been studying for four or more years took to it very well.
This has been a real find for us this year, and I wholeheartedly recommend it for classes similar to the one described above. The course requires a lot of student input, so this book would not work well with unmotivated or reluctant learners.
Anybody else using Jazz English?