24 Oct 2011, 6:06pm
curriculum
eikaiwa
ES
extensive reading
kids
language courses
readers
Reading
Review
reviews
Springboard readers
teaching
by
sendaiben
2 comments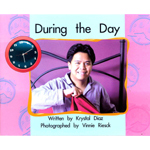 Springboard readers are an Australian series, and it shows in some of the content (titles include Wally the Wombat, Kakadu, and Ringo the Dingo). Most of the books are pretty generic though.
The series consists of sixteen levels, each with eight books, with a mix of fictional and non-fictional content. The books are not phonics based, but start off very easy and the progression between levels is fairly gentle, so they are a good place for students to start reading more extensively. The books are available various booksellers in Japan, but Amazon does not seem to carry them. Each set of eight books is priced at 2,100 yen, so they are not the cheapest option.
My take:
1. the content is okay, although some stories are better than others
2. the artwork is a mixture of pictures and photographs and is functional
3.  there is a wide variety of topics, from stories to factual information
4. the audio for the series is available online, and can be copied by schools
Basically this is a fairly average reader series that does the job. It is not particularly cheap, and the content is functional rather than compelling. However, having the ability to make copies of the CDs for students to take home is a great resource for schools, and elevates the worth of this series considerably. Normally buying the CDs for a reader series raises the cost considerably, but Springboard provides the same functionality for free.
We use these books with JHS students, assigning them one to four books to read at home per week. This is a solid workhorse of a series, and one that is probably worth consideration by schools looking to expand their range of readers or ones looking to provide students with more listening input at home. The sheer range of topics means that students that read all the books get a fairly wide exposure to lots of vocabulary and contexts.