23 Oct 2011, 5:41pm
Brand New Readers
curriculum
EFL
eikaiwa
ES
kids
language courses
readers
Reading
Review
reviews
school management
teaching
by
sendaiben
2 comments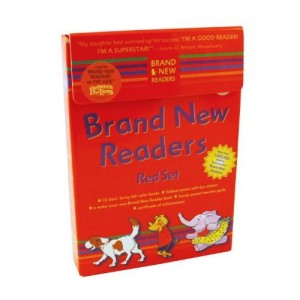 Continuing my series of children's reader reviews, I'd like to talk about a little-known gem today.
Brand New Readers (official site here) have a terrible, genetic name, but are actually wonderful.
They are not phonics-based, but rather are short, well-written, engaging stories with very attractive illustrations and great characters. They are available from Amazon.jp in a variety of formats, including hardcover books with several stories and boxed sets of paperback individual stories. We have both, and get a lot of use out of them. The boxed sets in particular are great value: they cost less than 1000 yen for ten books, some stickers, and a couple of other certificates and parent/teacher guides.
My take on the series:
1. great characters and stories (I like Piggy and Mouse the best)
2. easy to read and fairly repetitive, useful language
3. not phonics-based, but good for students starting out with reading post-initial phonics
4. great value
I love this series, and recommend it both for storytelling in class (the stories are just the right length to read one or two at the end of the class) and for students to read individually, either in class or at home.