6 Feb 2016, 9:36am
curriculum
extensive listening
extensive reading
public policy
by
sendaiben
4 comments
Business as Usual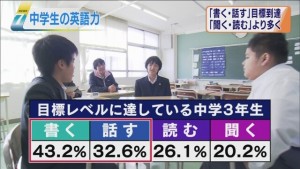 Japan Times article. NHK puts a positive spin on the data. Less positive commentary.
Apart from unsurprised disappointment, my first reaction is to question what exactly the government thinks the equivalent of Eiken 3, pre-2, or 2 writing skills are that 40-odd percent of students have (given that these tests don't have a writing section).
Is it that ridiculous 'rearrange these words in the right order' section? Because if they were using the words 'writing skills' in the form that the rest of the world understands, I think it would be a struggle for any Japanese junior and senior high school students to demonstrate proficiency.
I wrote about English education in Japan a couple of years ago in my 'if I ruled the world' series:
I don't think a huge amount has changed since I wrote those. One thing that has changed for me is seeing how effective an extensive reading and listening course is. I will be doubling my efforts to get local schools to start their own programs -wish me luck.