13 Dec 2013, 8:30am
JHS
junior high school
materials
reviews
SHS
university
by
sendaiben
2 comments
We've been trying out Question Quest for the last few weeks at Cambridge English.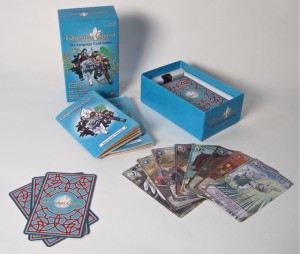 We love AGO, the UNO-like simple English question game, and David Lisgo's Switchit card games.
When I saw Question Quest's website I was extremely interested. It seemed like it would appeal to our teenage learners and complement our existing card games so I ordered a copy immediately.
Once it arrived I was impressed with the production values. The game is very attractive, with incredible artwork, quality materials, and a sturdy box.
The good
The artwork is beautiful and very appealing to Japanese teenagers
The game includes English and Japanese instructions
The materials are high-quality and pretty sturdy
The language covered is very appropriate for our students
Cards include example sentences to help students
The gameplay is interesting and more skilled players are more likely to win
Students practice strategies such as asking for more information, asking a third party, and expressing their lack of understanding
Reasonably priced (1575 yen for over 100 cards)
The bad
The game as written takes a long time to play (probably 20-40 minutes), which was a bit long for us
It took a while for us to understand the rules, both teachers and students
Some of the example questions on the cards are a bit unintuitive
Overall
This is a very promising resource. We normally do some kind of game or activity in the last 5-10 minutes of class, so found that Question Quest did not quite fit in that time. However, we were able to adapt the game (teacher asks the questions to students, playing without the conversation strategy cards, etc.) to fit the shorter time.
We also took some time and played some full games. Lots of fun and the students are practicing useful conversational gambits.
Overall I recommend Question Quest to teachers of teenage or young adult students (although it would certainly work with the right group of adults too). It's an attractive and versatile resource. A single pack is a very reasonable investment for a small classroom: teachers with larger classes would need one set for each group of up to 4-6 players.
Has anyone else tried this game?