19 Nov 2013, 11:59am
eikaiwa
expectations
high school
JHS
junior high school
kids
Language learning
teaching
vocabulary
by
sendaiben
14 comments
Unfortunately, many students in Japan are taught that 'almost' in English is 'hotondo' in Japanese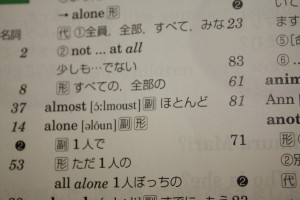 Sadly this is not true, so over the years I have developed a short mini-lesson to correct this false impression and help students better understand the meaning of almost.
The lesson can start at any time, but it requires a trigger: one of the students must translate almost as hotondo.
Once that happens, I quickly go through the following steps:
I point out that even though many teachers and textbooks teach this, almost is not the same as hotondo
I pretend to trip, and then say "phew, I almost fell over just now"
I ask the students to translate the previous sentence: "hotondo korobimashita" sounds really strange, so clearly hotondo is not a good translation here
I tell the students I planned to go to Tokyo this morning, but ended up not going. "I almost went to Tokyo"
"Hotondo Tokyo ni ikimashita" also sounds weird
I offer two alternative translations for almost: mou chotto de ~ and ~wo suru tokoro datta
I explain that hotondo is actually almost all in English: mou chotto de zenbu
Of course, this illustrates vividly the perils of learning and teaching vocabulary out of context, which provides another excellent mini-lesson for the students 🙂
Do you have any favourite mini-lessons?