11 Oct 2013, 12:37pm
conference
curriculum
extensive reading
presentations
school management
by
sendaiben
leave a comment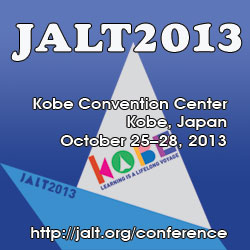 I will be attending and presenting at the JALT National Conference this year. Excited to go back to Kobe after 13 years!
I will be presenting on our extensive reading program on Sunday at 12:10. Details below:
Presentation #540: Step-by-step extensive reading program development (Workshop)
Scheduled for: Sunday, October 27, 12:10 PM – 1:10 PM (60 minutes)
Room: 502
My JET renewers' conference was held in Kobe, and I haven't been back since. Anyone else going?