1 May 2013, 12:07pm
curriculum
expectations
extensive reading
language courses
materials
Reading
school management
teaching
university
by
sendaiben
26 comments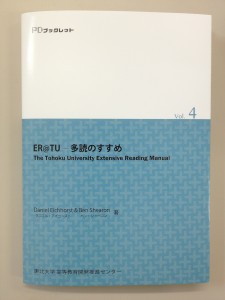 I am so thrilled to finally have this on my desk.
This is a 136-page bilingual handbook describing the extensive reading program at Tohoku University. It includes a detailed description of the curriculum, examples of handouts and other materials, and guides to adapting the program to other contexts.
For a limited time, free copies are available. Please leave a comment with your name and work address if you would be interested in receiving one. Alternatively, see me (Ben Shearon) at the JALT Pan-SIG Conference in Nagoya (May), the 2nd Extensive Reading World Congress in Seoul (September), or the JALT National Conference 2013 in Kobe (October) to get a copy.