9 Jun 2011, 10:49pm
curriculum
EFL
eikaiwa
expectations
kids
language courses
Language learning
readers
Reading
school management
self-study
teaching
university
by
sendaiben
7 comments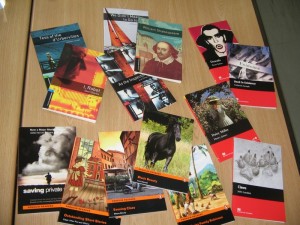 I am a huge fan of extensive reading (ER), and believe it is an essential part of any language course. Also known as FVR (free voluntary reading, although the voluntary part is kind of optional, as you'll see below), it basically consists of reading a large amount of easily understood text. This usually delivers fairly painless language acquisition, as well as the ancillary benefits of enjoyment and incidental content learning. You can learn more about ER at the Extensive Reading Foundation page.
I've been doing ER with Japanese learners since 2004, and have found a few techniques over the years that make a big difference to learners' progress both inside and outside the classroom.
#1 have students read in class
This is so important. Many students lead busy lives, and reading in English will have a low priority. By giving them time to read in class, we ensure that all students are having the chance to spend at least some time engaged in this crucial activity. Additionally, if students start to read a book in class, the chances that they will then finish it after class increase dramatically.
#2 set achievable goals
Let's face it, students rarely choose to read in English purely for pleasure. They may do it because they find it useful or because they believe it is a good way to learn, but most of them do so because their teacher asked them to. Finding achievable goals that push your students to read more and more without overburdening them is the key to a successful ER program.
#3 sell reading to your students
This is the foundation that the previous point rests on. It is essential that students understand why they are reading before they start. The principles of ER, guidelines and advice, as well as expected results should be made as clear to the students as possible. If students understand and, more importantly, believe in ER as a method, they are far more likely to succeed.
#4 recommend specific books
Introduce books to students based on their interests and your own. Hopefully you'll have read all your readers and will be able to recommend specific books based on genre, level, length, and other factors. A personal recommendation makes it much more likely that students will read, and also more likely that they will find a book they like.
#5 give students time to talk about their reading
This may be the most important tip of all. Assuming that most of your students are participating actively in the program, you can harness the power of peer pressure and social proof. If students have time to talk to each other about the books they have been reading, they can share book recommendations and inspire each other to read more. Of course, if many of your students are not participating actively, you may wish to avoid this, as you run the risk of having them drag down the more active ones. It's just a matter of reading your class to see if this would be beneficial or not.
So, what do you say? Any other good tips for running an ER class or program?