26 Nov 2013, 2:42pm
conference
curriculum
elllo
extensive listening
extensive reading
graded readers
language courses
Language learning
materials
online resources
presentations
self-study
by
sendaiben
2 comments
I was extremely lucky to be invited to speak at the first Oxford Day in Japan this month.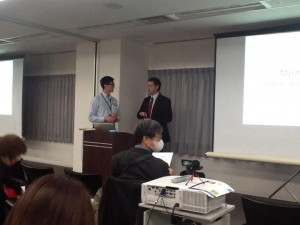 I wasn't really sure what to expect, but I really enjoyed the whole thing. 188 teachers attended, and there were nine presentations (five time slots). The venue was a very comfortable meeting space in Shibuya, and the provided coffee and sandwiches were excellent.
Most importantly for me, I had a fantastic group of teachers in my presentation who were very forgiving and asked me a bunch of questions at the end. Here is a copy of my slides in .pdf format and the video of the presentation is below:
131123 Maximising Input (slides in .pdf format)
If you have any questions please let me know in the comments, or send me an email to sendaiben@gmail.com.