15 Feb 2016, 8:20am
extensive reading
presentations
by
sendaiben
2 comments
I really enjoyed my presentation yesterday on the 30th floor of the AER Building in Sendai. The views were amazing and I am kicking myself for not getting some photos.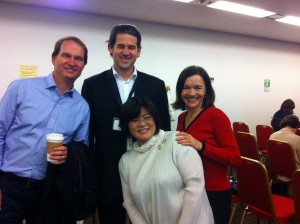 To make it up for you, here is a photo of the four presenters
I talked about starting reading programs, specifically:
My dream, which is to see decent English ER programs in public schools
Reasons for starting a program: some students love it, effectiveness as language study, can be a USP for a school
Foundations of a reading program: songs and chants, phonics, good communication with parents, and reading in class
Overview of a reading program: goals, money, materials, methods, and administration
Some advice: have students read in class, get a wide range of books, don't compare students to each other, don't ask if students understood a book but whether they enjoyed it, and don't expect quick results
Further reading: Kunihide Sakai and Akio Furukawa
You can see my slides here:[Sendai OTWS reading program for young learners] and get in touch by email or with a comment below.
I'll be doing this presentation in Omiya on March 6th, then that will be my last teaching presentation for a while.