6 May 2013, 2:44pm
business
curriculum
eikaiwa
extensive listening
extensive reading
language courses
materials
school management
self-study
teaching
technology
university
by
sendaiben
10 comments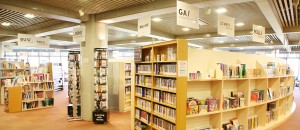 I have always wanted to have some kind of self-access centre (room?) at Cambridge English. I feel it would offer a lot of value to some students, as well as make what we do more effective.
The room would have books, computers, and comfortable chairs. It would have nice lighting and be a quiet, pleasant place.
Students would come and use the room whenever they wanted, and regular classes would also include self-study time (students would have to spend 30-60 minutes of a 90- or 120-minute class doing self-study).
We may have the chance to create something like this this year as our current classroom is too small and there is very little real estate available in Sendai after the 2011 disaster so we have rented an apartment above the school to have classes in.
I would like to do something like this at university as well. For now, I think the best chance is to work with the library.
Does anyone have any experience of implementing this kind of system?
(photo is the Self-Access Centre at Kanda University)