8 Apr 2011, 11:13pm
earthquake
life in Japan
living in Japan
personal
by
sendaiben
4 comments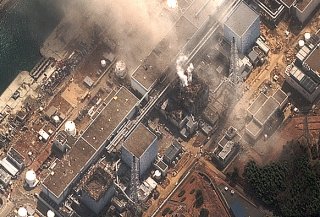 Continuing my account of the March 2011 disaster. See Part One for the beginning of the tale.
Part Two: Nuclear Accident
Around 6pm on Saturday evening (the day after the earthquake), just after we had eaten and just as we were thinking about going to bed (with no power and no heat, you quickly revert to a more natural sleep cycle!), our phone rang. Now, given that we had no power and the phones were supposed to be out, this was fairly surprising.
We actually got phone calls from two people that evening: my uncle in the UK, and my godfather in Germany. Both were calling because of initial reports of the nuclear power plant accident in Fukushima.
There wasn't much information at that point, just reports that the cooling systems were broken and the reactors might be breached. I talked to both of them briefly, then hung up and went to talk to my family. Before convincing them though, I had to convince myself. Remember, I had spent seven hours driving a 30km round trip the day before. I knew how the roads would end up if everyone in Sendai decided to evacuate. We wouldn't get ten miles…
That's what decided it for me. Go now, or risk never being able to go. We had to leave immediately.
The other factor was to run through the possible outcomes of the decision. I first remember seeing this in a video about climate change, of all things. You can check it out here.
I did the same thing with our possible escape. Run away/stay put. Nuclear accident is harmless/catastrophic. Made a funky box decision matrix thing, and compared the worst case scenarios: we ran away and the nuclear accident was harmless. We feel a bit silly, it costs us some money. We didn't run away, and the nuclear accident was catastrophic. Hollywood disaster movie ensues, with us as extras (ie not the people that get picked up in the presidential helicopter just in time).
Once I got that clear in my head, I quickly persuaded my wife and kids. We decided to leave immediately, except that my wife didn't want to leave her parents behind, so we sent one of the girls to get them. Another of them had gone to take some food to her colleagues just before we got the phone calls, so we had to wait for her too.
It was a tense wait, sitting around the kerosene stove. We put the candles out to save them and grabbed a change of clothes and some personal items. I couldn't find my youngest daughter's passport, and the eldest's one had expired. Figured we could sort something out later.
Coincidentally, my wife's cousin who lives in Kanazawa on the other side of Japan called her just after the earthquake and before the phones went down, offering her a place for us to stay. We decided to head that way as I had a vague notion to head for Osaka and ultimately abroad to Thailand or the UK if things went really bad, and Kanazawa is on the way to Osaka (and more than 600km from the nuclear reactor across a major mountain range). It seemed to be a good choice.
A good two hours later, my parents in law showed up. Apparently it wasn't traffic, but rather the fact that it took that long to persuade them to come with us that had caused the delay. They didn't really see the problem, didn't want to go (especially in the middle of the night), and were not convinced there was a problem. After all, the government was saying it was okay…
After pacifying them, we sent them off first with two of the girls at about 22:30, telling them to drive across to the Sea of Japan, then down the coast to Kanazawa. The one huge problem was fuel, as shortages, damaged petrol stations, power cuts, and panic buying had rendered it almost impossible to find in Sendai. I figured we'd find some once we got out of the earthquake zone.
So we waited for our eldest to come back. And waited. And waited some more. At around 0:30 my wife went to bed while I stayed up. It was 2am when our daughter came back, so I quickly told her what was going on, gave her ten minutes to pack, and got my wife up.
Jumping into the car, we looked at the half-full petrol tank and thought about distances and routes.
Before we left, we set out as much water and food for our cats as we could, then said goodbye to them.