3 Dec 2010, 4:22pm
conference
curriculum
EFL
eikaiwa
extensive listening
JALT
Language learning
presentations
readers
Reading
teaching
technology
testing
by
sendaiben
leave a comment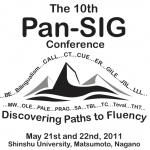 The call for papers for my favourite conference in Japan just came out -you can see more here.
The 2011 JALT Pan-SIG Conference will be held in May in Nagano. I really recommend it. Smaller, more relaxed, and friendlier than the national conference, the real selling point is the distilled value.
The Pan-SIG is made up of all the special interest groups in JALT, groups that specialize in things like computer assisted language learning, extensive reading, teacher training, pragmatics, teaching adult learners, and many others. These specialised groups then choose the presenters they want to represent them. In practice this means that the quality of presentations tends to be very high. I seldom feel I am wasting my time at the Pan-SIG.
I will hopefully be presenting on extensive reading (that idea that Eleanor told me to develop). I hope to see a lot of friends there too!