11 Jul 2016, 1:58pm
Academy
Admin
curriculum
by
sendaiben
4 comments
English Program for Junior and Senior High School Students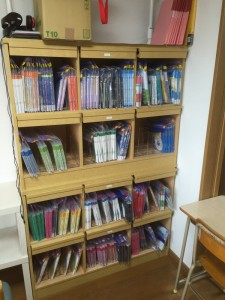 For the last two years we have been developing the Cambridge Academy, an academic English program for junior and senior high school students in a private English school setting.
The program consists of two strands: input and output.
Input classes are based on extensive reading and listening. Students spend most of their time reading/listening to graded materials at their level. Students also learn vocabulary, do shadowing, or write short reactions to books (at higher levels).
Output classes are focused on oral and written production. Students work in pairs to develop their speaking fluency, and do intensive reading and listening exercises to encounter and practice language. Vocabulary and grammar is chosen to complement public junior high school textbooks.
We are now exploring ways to license and share the Academy program with other schools. Academy partner schools will receive training, teaching and administration manuals, and materials, and have the option to purchase starter packs of readers (labelled and organized into packs so they can be used straight out of the box).
Many English schools struggle with retaining and recruiting junior and senior high school students. The Academy program provides practical, academically focused classes that are easy to run, enjoyable for teachers and students, and easy to explain to parents.
If you are interested in learning more or would like to be considered as a test partner please get in touch via email or a comment below.