13 Apr 2016, 3:50pm
curriculum
extensive listening
extensive reading
Language learning
speaking
by
sendaiben
12 comments
Adding shadowing to beginner extensive reading has immense potential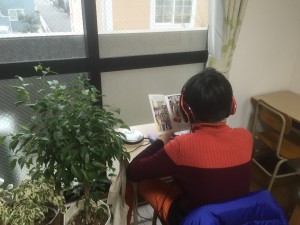 I've been meaning to write this post for a while. I'd like to thank Yuko Suzuki, who first told me about the huge potential of incorporating shadowing practice into extensive reading classes for beginners/lower-level students. If you have a chance to see one of her presentations I recommend you take it -she's a very effective teacher and presenter.
So what is shadoku? Well, it is a term coined by me as a gag over lunch at a seminar in Fukuoka. I'm kind of chuffed that it has been adopted somewhat by the community 😉
Shadoku is shadowing and tadoku (extensive reading).
Shadowing is a type of speaking fluency practice that involves attempting to speak along with another person or an audio source. It is different from repeating. When doing read and repeat, for example, the source would speak first, then the learner would repeat. In shadowing, the source would speak, then the learner would attempt to say the same thing at the same time with the smallest lag possible. One feature of shadowing is that learners are encouraged to imitate the speaker's tone, intonation, emotion, and pronunciation.

This video gives a brief explanation of shadowing.
So how does this work with tadoku (extensive reading)?
Well, I have only been experimenting with this for a few months, and we rolled it out to all the beginner students in the Cambridge Academy last week.
I have adapted (messed up?) Yuko's technique slightly, so I will introduce my version of shadoku below.
For beginners (mainly junior high school first years and elementary students) I am planning to do shadoku as described below until they reach YL 0.4, at which point I may allow them to read and listen instead, or we may continue with shadoku if that seems appropriate at the time. Basically this year is another learning experience for me.
How to do shadoku
There are four steps in my version of shadoku, so a student will read each book four times.
Step one: look at the pictures, think about the content. At YL0.1-0.3 there are plenty of pictures in the books and students can guess a lot of the content just from that. This step takes a minute or two, and we encourage students to look closely at details in the pictures.
Step two: listen to the audio and read along silently. This step allows students to focus on how to pronounce words and how the English sounds when spoken.
Step three: listen to the audio, read along, and shadow out loud. This step allows students to shadow assisted by the text.
Step four: listen to the audio and shadow out loud. Do not open the book. This step allows students to use their listening skills and short-term memory to shadow successfully. I also encourage students to think about the meaning of what they are saying during this step.
Introducing shadoku
For the first three or four classes I have students do shadoku as a group, with me leading them. I introduce each step (I have a notebook with the four steps that I show to remind students), play the CD when necessary, and give students feedback and advice. Students shadow together as a group, which makes them feel less self-conscious and allows more confident/keener students to set a good example.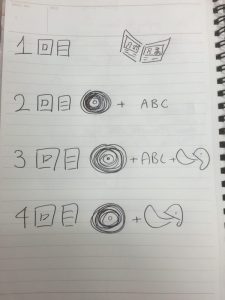 I use these diagrams to explain shadoku
After a few classes and once students are more confident, we do group shadoku at the beginning of class and then students work individually with headphones and personal CD players in the latter half. They are also expected to continue practicing in the same way at home.
The benefits of shadoku
I haven't been using shadoku with my students for long, but already I am really happy with how things are going. I've been asking all our new students (starting at YL 0.1) to do shadoku, and am currently planning to have them continue until they reach YL 0.4 or so.
The main benefit is that students are much more involved in the task.
Previously when we did reading while listening some students were clearly zoning out. I had a couple who appeared not to have made any progress mid-year so I had to have them go back to the beginning and do intensive work reading to me, etc.
I can't see that happening this year, as I can hear the students practicing and can monitor if they are getting the right pronunciation, intonation, etc.
The students also seem happier and the atmosphere in class is much better than last year.
Conclusion
This is still a work in progress. So far so good, but we'll see if students get bored or some unexpected problem pops up. We'll also have to see where it would be appropriate to stop doing shadoku in class and transition to reading and listening. I suspect it's going to be when students move from YL 0.3 to 04, but I'm not sure and look forward to trying it out in a couple of months' time.
Anyone else using shadoku? Anything to add?