25 Jul 2014, 8:36am
conference
presentations
by
sendaiben
leave a comment
I was delighted to deliver the opening plenary for VUS TESOL in Ho Chi Minh City last weekend.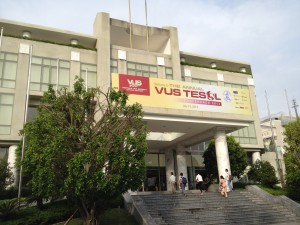 The conference was held at the City Conference Hall and was very well-attended.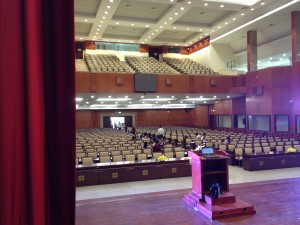 I had to be there at 7:00 to set up before the opening ceremony at 8:00. The hall was incredible, it felt a bit like a rock concert with the two tiers of seats and the spotlights.
I started a bit late so had to trim my talk a little on the fly (ended up talking for about 40 minutes instead of the planned 60).
You can see the video of the speech below. My slides are here: 140719 VUS plenary slides, and the notes for the talk are here: VUS TESOL 2014 summary
Overall I wasn't completely happy with my performance. Giving a plenary is very different from a workshop or presentation, and this was my first one of this scale. I felt I was a bit rushed and had too much content, which means that I wasn't able to fully develop some of the main ideas.
Still, it wasn't completely horrible. I would probably give myself six or seven out of ten, and try to do better next time.
I'd like to thank everyone who came to the conference, and especially everyone who came and talked to me. It was great to meet you all.